Post by pocketdemon on Jun 9, 2019 10:30:45 GMT -5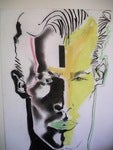 I also saw some UK seller offereing a testpress of a German release and initially replied he thought he listed it correctly and obviously he didnt even care to double check since he got the standard pressing.
I usually ask sellers to doublecheck of ask them if i can see pics of the actual item.
Also, many of the sellers say they couldnt find the exact pressing. I can imagine this when you have loads of stuff to list and you dont have the time to search for the correct pressing.
Altough i use discogs frequently, it is absolutely not a site i rely on for information, because a lot of info is not true.
i knew that you have had issues Peter, but that's really coincidental...
Having had some sleep - & feeling a little less cross than i was earlier, but there's still the rest of the day to become more so again i guess...
...i've just had a check & in the last 12 months i've bought 12 items on there - not all Duran.
(i buy very little of the legacy music of course, as my collecting moved on to mostly be memorabilia)
Now 6 of them couldn't be anything other than what they were since there's nothing they could be confused with - so stuff like the Decade DCC & the French FF cassette & a non-Duran 7" where there is one version in the world &...
…however, whilst checking with the sellers before they were shipped on the other 6, 3 of them were the wrong item.
So you take something like the misprinted CM sleeve - www.discogs.com/Duran-Duran-Careless-Memories/release/5159723 - & i know that the history is nonsense as one of the two sold was to me & it was the standard release.
i can't comment on the 2nd one sold of course - but i'd suspect that it was also wrongly listed.
Or, whilst it's not affected it yet, with the Greatest promo box - www.discogs.com/Duran-Duran-Greatest/release/3020810 - one of the copies for sale is clearly stated as only being the video... ...which is of course www.discogs.com/Duran-Duran-Greatest-EPK/release/2960036
So, despite being clearly & accurately described, if it sold then it'd mess with the history.
Likewise, i know anecdotally that the World Of Music PT - www.discogs.com/Duran-Duran-Pop-Trash/release/6686749 - history is nonsense as many of the copies sold were not the right version.
However, even if you take something like the FF cassette (www.discogs.com/Duran-Duran-Femme-Fatale/release/2775076) - & whilst it's history is almost certainly accurate, what it doesn't show is the condition.
&, esp as it originally came sealed in a yellow plastic display thing, that's really important info imho.

---
Back to the OP's original question though (albeit that i gave my opinion privately earlier), & whilst we can all get lucky & get rare items for next to nothing, imho then something like a £30-35 value wouldn't be outlandish for the thing in a decent condition imho...
...but obviously we can only ever buy the copies that are for sale.